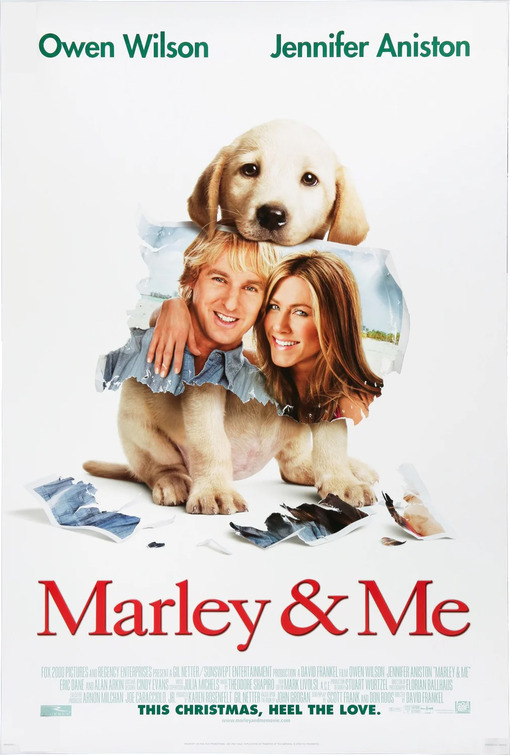 A dog doesn't care if you are rich or poor, smart or dumb, as long as you give it love, it will give you his.
Based on the largely popular book by the same title, Marley & Me mainly focuses on the life of John Grogan and his family, and caring for their dog, Marley who they call it 'the world's worst dog'.
It has its reasons why Marley is called the world's worst dog - It chews off couches, topples dog food and gobbles it up from the floor, steals lingerie from the house, rips off a postman's bag of envelopes, got kicked off from obedience school, and is just living a carefree crazy life of its own.
Trying my best to keep spoilers to its minimum, the movie starts off with the life of average Joe, John Grogan (acted by Owen Wilson) who works as a newspaper journalist. He is married to his wife Jenny (acted by Jennifer Aniston) who is also a journalist.
Uncertain to be a good mom and a parent, Jenny suggests to John that they should get themselves a pet dog. They would later adopt a cute Labrador retriever and names it Marley after the late singer Bob Marley.
What they didn't know is their dog will soon turn their life upside down - but at the same time, changing it. Marley may be troublesome as a bad company wreaking havoc in the house, but he was deeply loved by the Grogans as a dog.
There were some funny moments, but it also was a real tearjerker in the end as all dog movies do.
It was a massive hit in US during Christmas, because it was a good and honest story about the life and journey of a humble man loving his dog, his wife and his children. It is a nice family-oriented drama, thus suitable for even the kids to watch.
Owen Wilson and Jennifer Anniston also play their parts well, but I somehow still doubt the chemistry between them as a loving husband and wife relationship. Director David Frankel (who also directs The Devil Wears Prada) put in some nice touches to this movie.
If you feel like watching a casual movie with some comedy and maybe preparing yourself some tissues too, then Marley & Me is a good watch.
Otherwise, it's best to read the book if you haven't yet, because the book gives a more vivid description of the story - the love and life with the world's worst, but lovable, dog Marley.